YOUR all-inclusive EXPERIENCE
Discover Abruzzo
Known as the greenest region in Europe, Abruzzo is dotted with charming medieval villages and home to one of the finest and best preserved medieval churches in Europe. As part of your experience, you will visit nearby attractions including the best preserved medieval village in Italy, Santo Stefano di Sessanio, the medieval Castle of Rocca Calascio and Bominaco, home of the "Sistine Chapel" of Abruzzo. [read more...]
The studio
Set at the foot of the Abruzzi mountains in Italy, the studio is located in a small rural village (Castiglione a Casauria) surrounded by scenic hills and conveniently located 90 minutes away from Rome and 30 minutes from Pescara airport. The studio provides a relaxed environment that is ideal to learn a new skill, explore an interest or refine your creative techniques.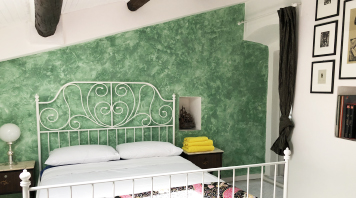 accommodation + meals
All participants are housed within Dedalo grounds or just across the road, within 100 metres of the studio. Some rooms have a private bathroom, while others are sharing with one other participant.
Meals are included in the package and include three course meals, snacks and all drinks.
We also cater for special dietary requirements.